As promised, and with a small delay while I waited for a monitor to come through the post, I have kept my xmas tradition and spent the evening building something! (if its not a lego millenium falcon or a mecanno remote control truck then it'll have to be a night vision rig!)
This build is simply to show everyone what is possible on a shoestring budget. The camera used is a cheap, sub £15 bullet camera without the ir filter removed, it is easily capable of 150 to 200 yards when used with a black sun / as pill t20 torch IF (and this is the key part) you have a scope that performs well under ir light. I've tested a few different scopes of different price points and purchase price / optic quality has nothing to do at all with nv potential.
This thread is not designed or intended to be a "you may as well use an e700" debate it is simply a how to and build list for a rig that works and will get someone a very useable rig for very little outlay that is ideal for sensible rimfire ranges or shorter.
In the build, I am using a couple of bits a lot of UK shooters probably have sitting in the drawer without a purpose but I will mention what can be used instead if you don't have the bits lying around that I did. I am also assuming there is a basic ability to join 2 or 3 wires with a soldering iron and you have access to staple 'fettling' tools like a glue gun, soldering iron etc. I am also assuming you have a couple of spare 18650's and a charger so these aren't included in the build cost
BUILD LIST
1 x 45 / 42mm to 38mm silicone reducer hose (measure your scope eyebell and get the best fit) - £8.35 -
http://www.ebay.co.uk/itm/16mm-20mm-25m ... Z0HFffexVw
1 x electrical gland (to take 20mm cable) - £1.00 -
http://www.ebay.co.uk/itm/16mm-20mm-25m ... Z0HFffexVw
(in packs of 5 for £4 but you could probably get a single one in b&q or an electrical wholesaler)
1 x cheap bullet camera - £14 (exchange rate dependant) -
http://www.aliexpress.com/item/Mini-Bul ... sstype=600
1 x serial twin 18650 holder - £1.99 -
http://www.ebay.co.uk/itm/18650-Serial- ... R335rR9BwQ
1 x 4.3" monitor - £8.89 -
http://www.ebay.co.uk/itm/281679040839? ... EBIDX%3AIT
1 x packet of neoprene rod bands - £2.95 -
http://www.ebay.co.uk/itm/NGT-Carp-Fish ... E39myT_kmQ
1 x inline switch - £0.99 -
http://www.ebay.co.uk/itm/12V-In-Line-P ... 5rTDh3A60A
1 x 25mm weaver mount - £1.29 -
http://www.ebay.co.uk/itm/25-4mm-Low-Pr ... SwU~FWC8dQ
1 x scope mounted weaver rail - £2.45 -
http://www.ebay.co.uk/itm/Black-30mm-Ri ... Sw1S9Wc9zp
1 x 16mm m12 lens - £1.61 -
http://www.ebay.co.uk/itm/CCTV-Security ... SwgQ9V0wPe
(always ask the camera seller if they can fit a 16mm lens for you, a lot of sellers will.)
HOW TO
first step is to take the silicone reducer hose and glue the gland inside. gorilla glue or epoxy are the way ahead rather than hot glue - although it will still work perfectly fine.
once its in and dried, i wrapped the tube in self amalgamating tape as it was a blue hose but if it was a black one it could be left untaped.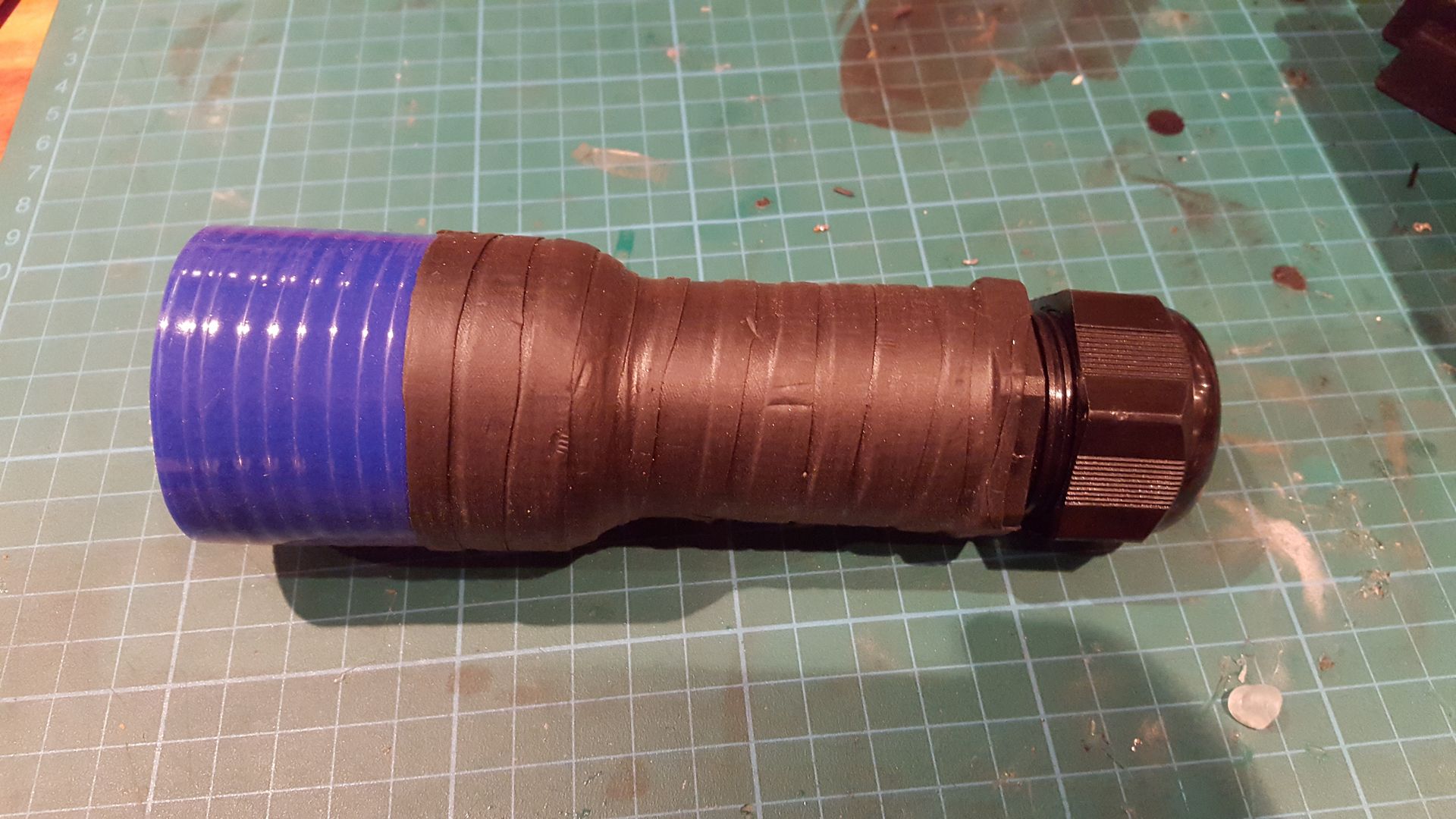 next step is to prepare all the components. The best approach is to physically mount the tube to your scope, fit the camera into the back and work out how much cable you can afford to remove. ideally, you want to cut the cable leaving enough slack to remove the camera with the tube fitted to the scope and the end of the cable about an inch from the front edge of the tube (hope that makes sense, if in doubt cut the cable just behind the junction block)
with the monitor, i cut the cable just behind the junction block again as i will ultimately be changing the monitor mount (so I can side mount it but I know a lot of you guys use top mounted screens so I have done the initial build to show that.) in reality, you could probably cut the cable 2 or 3 inches back from the junction. I also trim the white signal cable level with the housing leaving just the red, black and yellow exposed.
inline switch - this is one area uk shooters could save a whole 99p! I utilised the switch from an old deben lamp but if you buy the one from the ebay link you can just ditch the connectors and strip the wires back for soldering.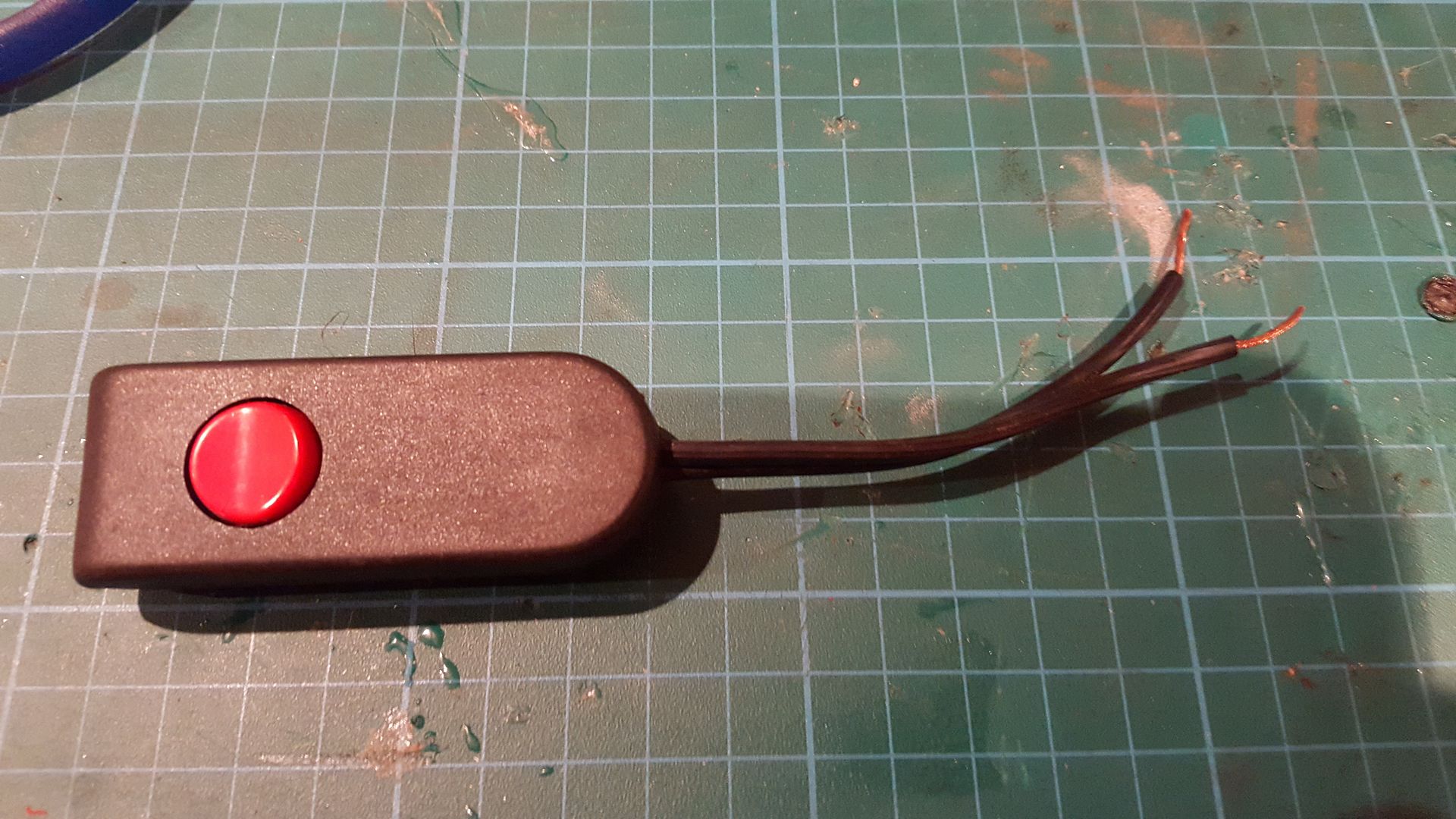 battery box - the cables will more than likely already be ready for soldering but if not just strip a short portion of the cable outer.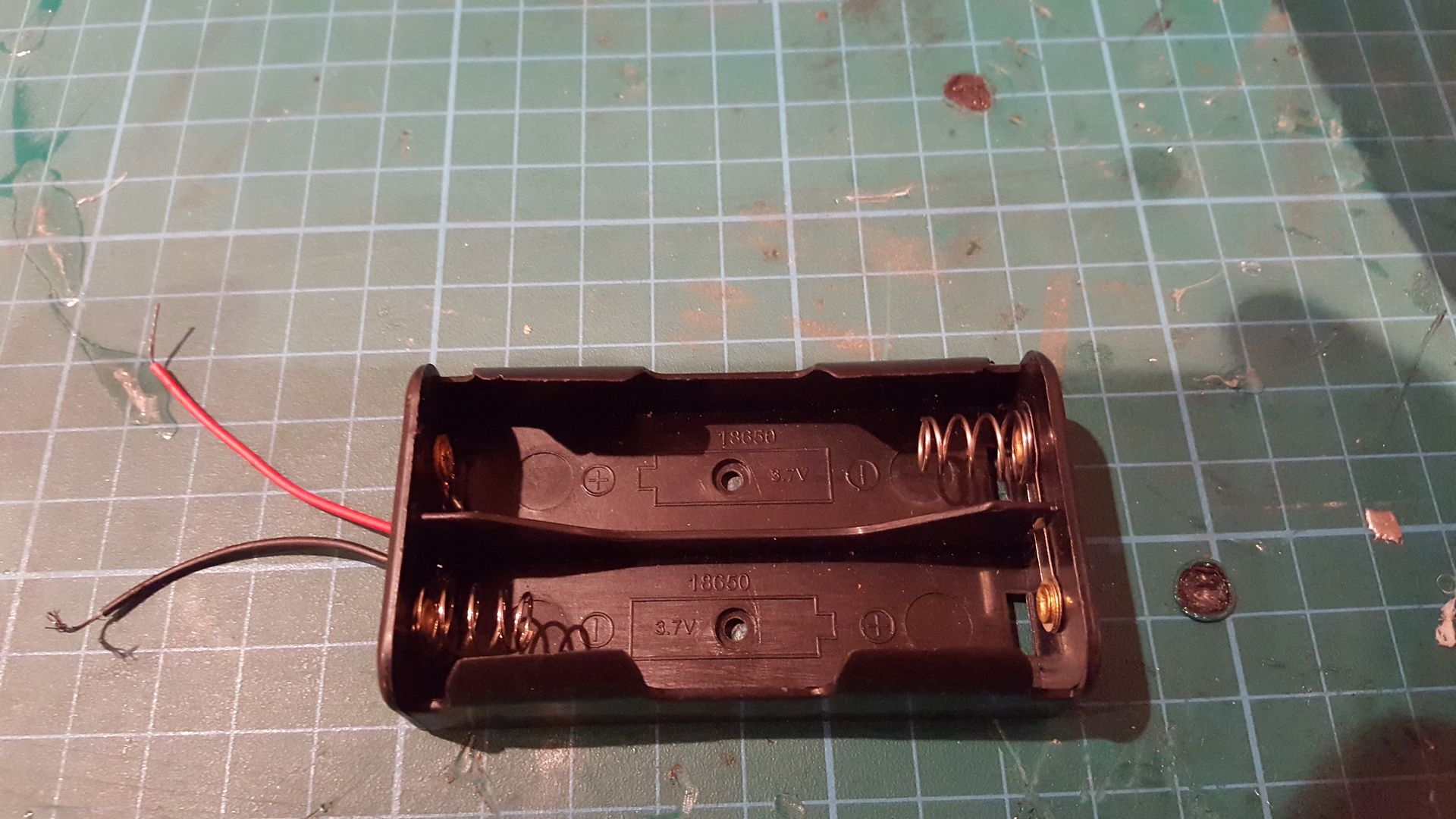 now you need to mock up the rig to check cable lengths & to get everything running the right way. this could be tricky to explain so please bear with me (I also got a bit carried away and didnt take pictures at this point.)
place the camera in the silicone housing
place monitor the required distance from the silicone housing to replicate the distance you need on your scope
place battery box level with (or glue to the top of) the wider section of housing
place switch level with the rear section of the housing.
now for the wiring. all the joints ideally want to sit at the same level as the battery holder and use heatshrink or insulation tape to secure the joints.
yellow from camera meets yellow from monitor
black from monitor meets black from camera & black from battery holder
red from battery box meets one side of inline switch
red from camera & monitor meets other side of inline switch.
once the following joints are soldered and insulated you should have something that looks a little like this (don't forget to test the rig actually works first, if not - check your connections)...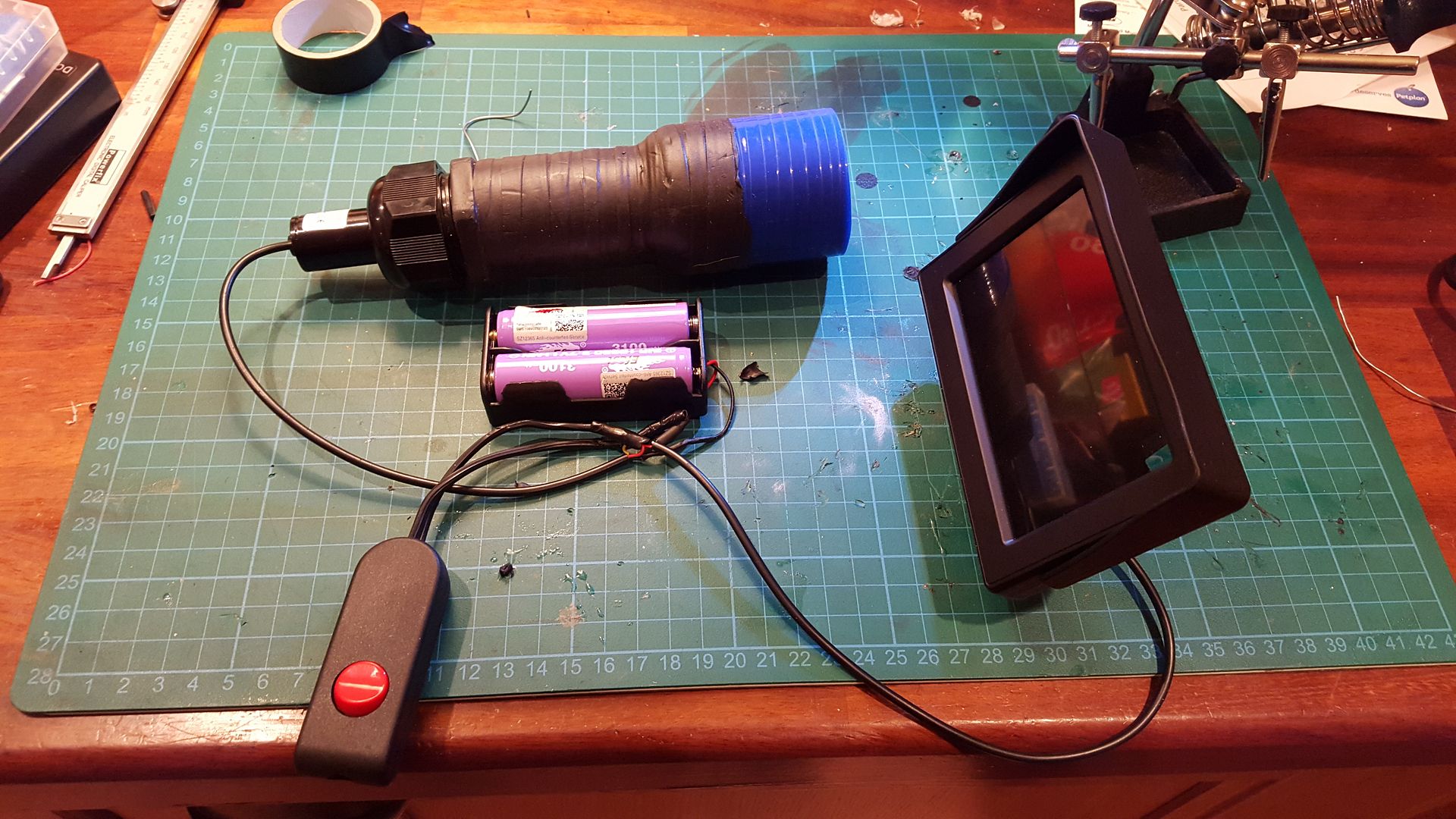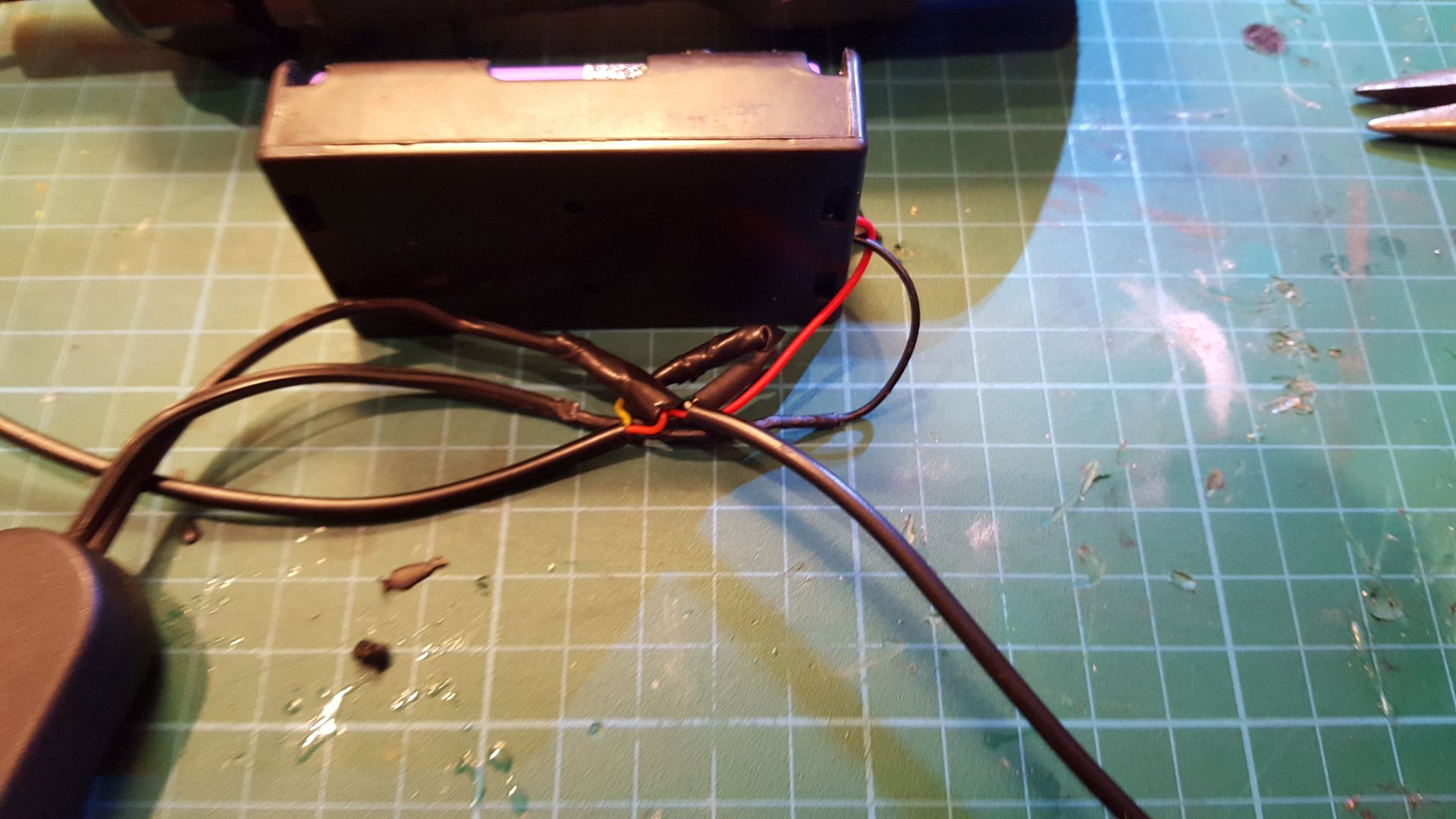 I will happily admit my soldering isn't the neatest in the world but as you will see shortly - amalgamating tape can hide a multitude of sins!
tape up all the cable joints into a tidy bundle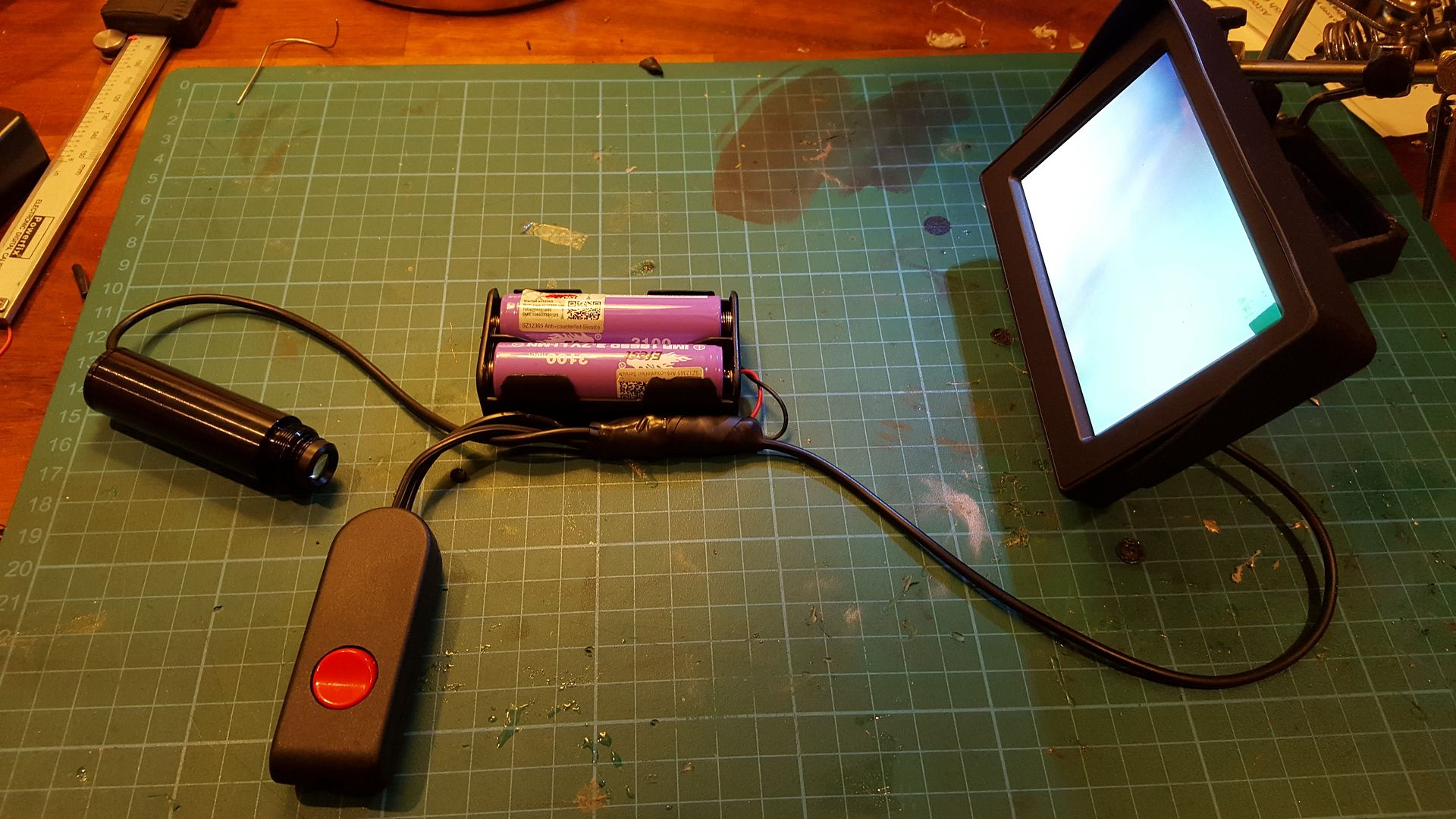 next glue the battery box (if youve not already done it) onto the front edge of the tube and glue the bundle under the outside edge of the battery box.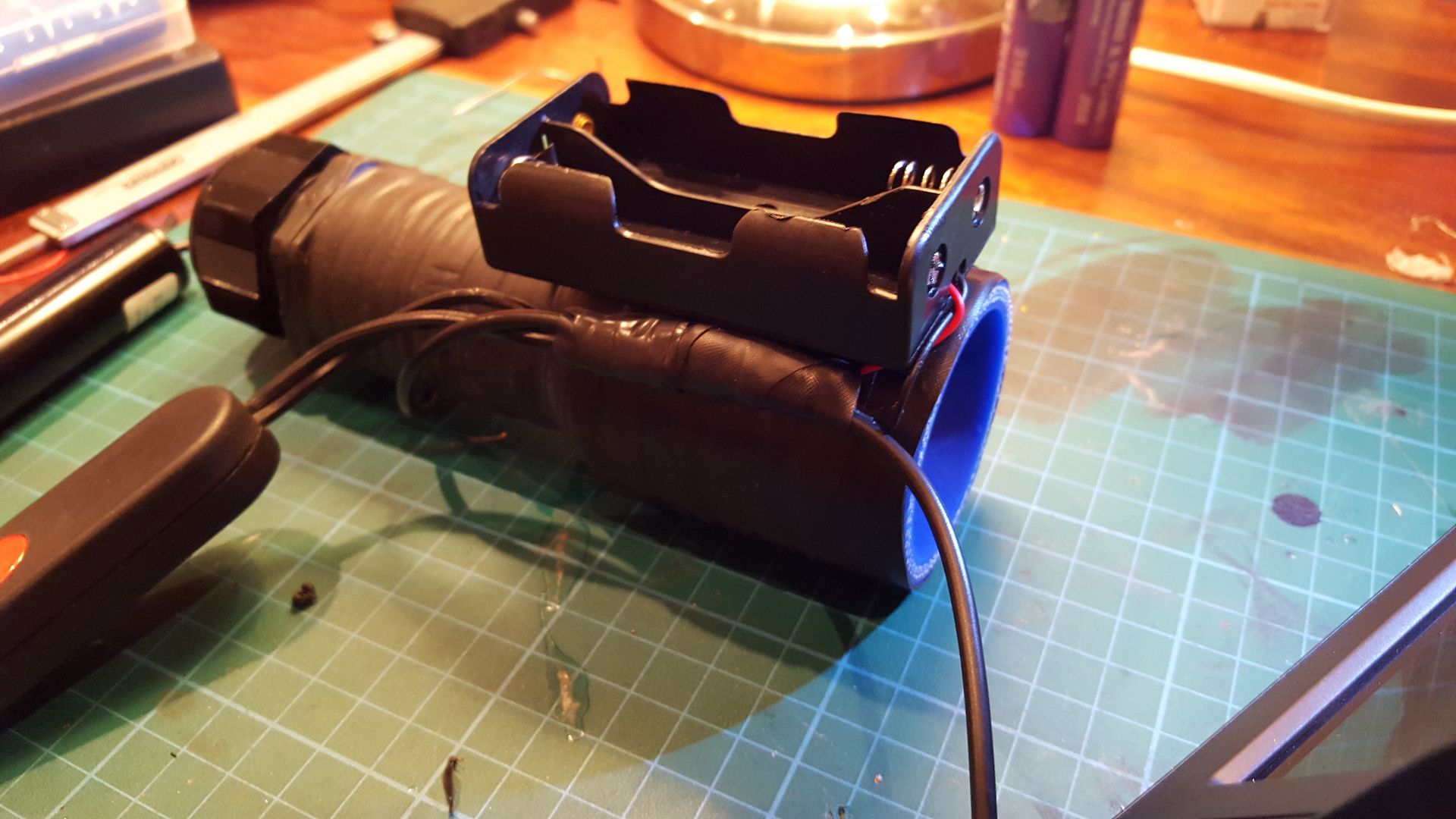 now, you need to drop in a pair of batteries and wrap the unit in the neoprene rod bands. the larger one is the perfect size to wrap the front half, the rear is perfect for taking in the remaining slack cable from the bullet cam and keeping everything nice and neat. the switch (especially if you use an old deben one) can now simply be velcro'd onto the rod band in a place that is convenient for you.
the final step is a monitor mount. staying with the "look what i found in the drawer" theme form earler, the monitor stand can be shaved down and simply hot glued into an old deben lamp mount! a very simple, cheap & effective clip on / clip off solution! if you don't have one, spending a couple of quid on a cheap weaver mount and a scope mounted weaver rail gives you a quick detach option for mounting your monitor. if you want a little more flexibility, a tomtom satnav mount can be glued to the rear of the screen & a weaver mount fitted to give you a pan & tilt monitor mount solution. they are typically only a couple of quid and give you a touch more flexibility.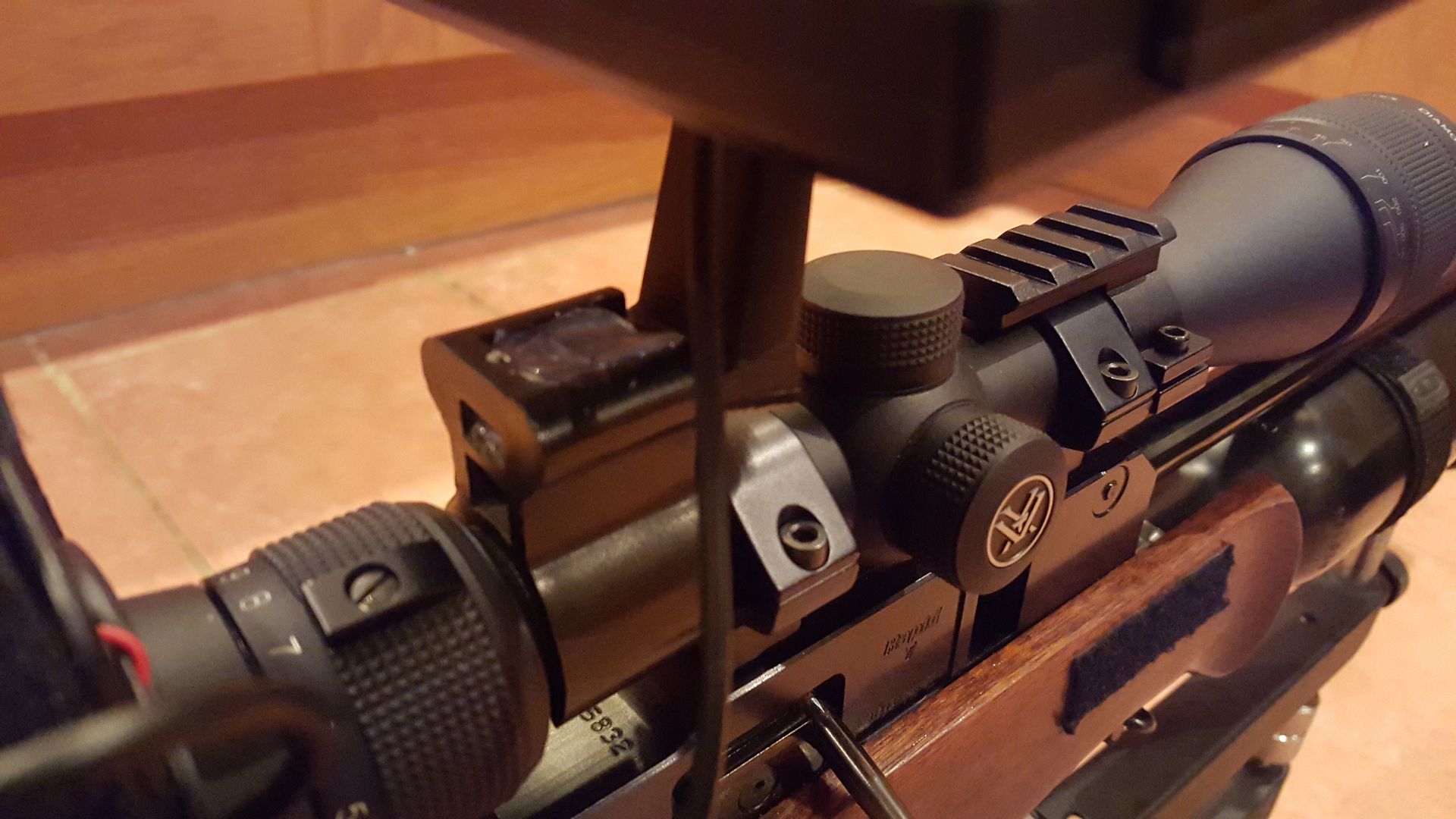 still a little fine tuning needed on crosshair focus but here is the end result.
IR source.
using a black sun t20 this rig is performing perfectly well out to 150 yards in current conditions (which are less than favourable!) using a larger ir source will increase the performance (we used an as pill l67 behind this one and it was good for 400+ yards in decent conditions) even with the black sun t20 from nightvisionstore (link at the top) the cost is still sub £100 (excluding 18650's and a charger but we have recently discovered torchfactory.com who are selling as pill torches at great prices - £31 for an as pill t50 is a cracking price and puts the rig + ir to a mere £80.
DISCLAIMER
unfortunately, because the rig is fully soldered I can't get decent footage anymore however I will get out and try to capture something half decent from my phone to prove the performance I am claiming is accurate.
as an aside, some members are adamant that these cameras are very hit & miss, between myself & my shooting buddy we have used 4 or 5 different retailers and had 2 or 3 different cameras out of a total of about 30 units (boavision, top tech & generic unbranded ones) all the cameras have performed to a very acceptable level & from what we can tell the key seems to be to ensure you are getting a 700tvl, low lux, 1/3" sensor and a sony effio chipset. clearly, if cost wasn't an issue opting for an ej230 or an e700 is the way to go however this entire concept is about building a unit that gives good performance for an honest price for those who may not want to invest in an e700 rig.
ir filter can be left on & we haven't really noticed vast differences between leaving the filter on or taking it off. If you find that you are struggling for range then it is potentially worth removing the filter, i'm not going to go into it in detail as its been done by more experienced builders than me and there are guides on here.