"UPDATE AT BOTTOM OF THIS POST
AND MORE UPDATED PICS ON PAGE 4
"
Hi all,
Have nearly finished my first NV add-on build after a couple of years thinking about it, and have to say a huge thank you to all who post here with your ideas, tips and tricks, if it wasn't for this forum I'd
still
be thinking about it!
Thought I'd go the wireless route after a year or so with the Nitesite NS200 (and those trailing wires) a good bit of kit in the right hands but could be so much better......and I like a challenge!
Also wanted a DVR that would double as a monitor/recorder, and found one that had a 2.4Ghz receiver built in, after pulling the trigger I read on here that others had tried the same one with good success which eased my mind somewhat!!
Here's the build list;
Wireless DVR
http://www.aliexpress.com/item/Mini-bul ... 68694.html
E700 camera
http://www.sure24.co.uk/kpc-e700pub-16b ... internal-1
T20 from Marky (link above)
Pulsar DSA
http://www.uttings.co.uk/p110141-pulsar ... -g2-79042/
100x60x25mm project box
http://www.amazon.co.uk/Superbat-Electr ... 00x60x25mm
Wireless transmitter
http://www.ebay.co.uk/itm/171209320616? ... 1439.l2649
18650 batteries x4
http://www.ebay.co.uk/itm/190872694934? ... 1439.l2649
QD scope mount (for T20)
http://www.ebay.co.uk/itm/370905564848? ... 1439.l2649
2x Doubler
http://www.ebay.co.uk/itm/221113826546? ... 1439.l2649
12v 1800mAH Li-ion battery
http://www.ebay.co.uk/itm/161230158273? ... 1439.l2649
QD sling adapter, modded fo DVR mount
http://www.ebay.co.uk/itm/151100412853? ... 1439.l2649
Weaver inverted mount
http://www.ebay.co.uk/itm/131113249954? ... 1439.l2649
Rubber eyepiece extender (not arrived yet!)
http://www.ebay.co.uk/itm/120495637049? ... 1439.l2649
52mm lens adapter to fit doubler onto T20
http://www.ebay.co.uk/itm/250822365779? ... 1439.l2649
F1.2 16mm board lens (seems to be a little better than the Sure one but not night tested yet)
http://www.ebay.co.uk/itm/290929506428? ... 1439.l2649
I picked up the switch and battery charging socket at Maplins and a pack of 40mm waste pipe ends from Screwfix that seem really popular on here as a camera mount in the DSA!
Started out with a much larger box when I saw all the cables and connectors there when testing during the pre-build, and have to admit it looked a pretty daunting task and had to walk away a few times, but once I shortened the cables it soon became much simpler, a novice as far as soldering is concerned, but all went well!
Total cost around £380, but I did go overboard with a few things!
Mounting the box on the DSA was simple once I determined which way round I wanted my add-on to be mounted to the scope ( narrow end with locking lever to scope) drilled 2 holes in the box that lined up with those in the Weaver mount of the DSA which I tapped to take suitable countersunk machine screws, also drilled a hole through both for the E700 camera out cable, this was done just behind the screw on extender and just in front of the waste pipe camera mount so at first glance, you cannot see any cables whatsoever!!
The 3 cells of the dismantled battery (just took off the blue wrapper) fitted in one end of the box in a 2-1 format, a shaped piece of Kydex over the single one made for a good mount for the video sender, leaving the other end free for the switch and charging port.
Some hot-glue, solder and heat-shrink later, I finally had everything looking neat and tidy, and even nicked the tiny clear lens off the old video sender case and fitted in the lid, so now I know when the unit is switched on with a little dull blue light!
The T20 mod has been covered elsewhere on the forum, so I won't go over it here, other than I think some testing is in order for my mounting preference, one of the NS200 niggles was IR flareup off the back of the moderator, hence my under the mod mount, going to try some targets this week with and without, just to make sure!
The DVR mount is QD and not quite finished yet as you'll see in the pics later, there is a block of hand molded plastic (Polymorph) between the shortened QD base and a small camera tripod head that I butchered, seems to work ok but might change it for some 20mm round Ali bar!
Going to spend a few days on a friends farm this week (weather permitting) to do some testing, and will report back with my findings, in the meantime, hope you like?
ATB Dave
Rifle is my 24 year old Sako .223 (soon to be Cerekoted) with modded Brown Precision fiberglass stock, scope is an MTC Genesis 5-20x50 which works well with NV, much better than my NSX.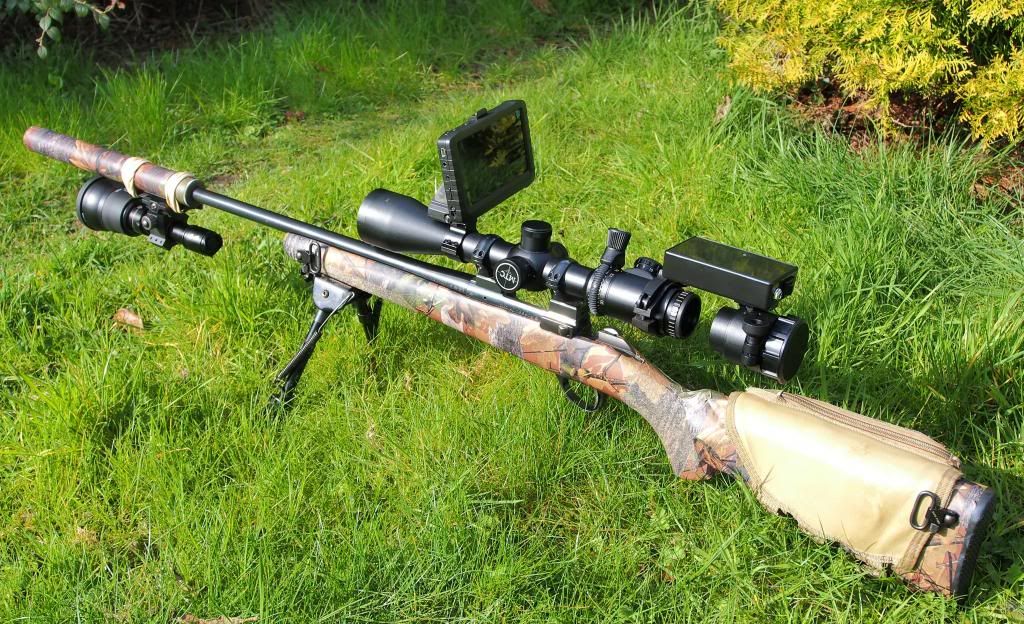 No wires.....Yaaay!! (missing a yet to arrive rubber eyepiece to further cut out glare and protect the camera lens from dust!)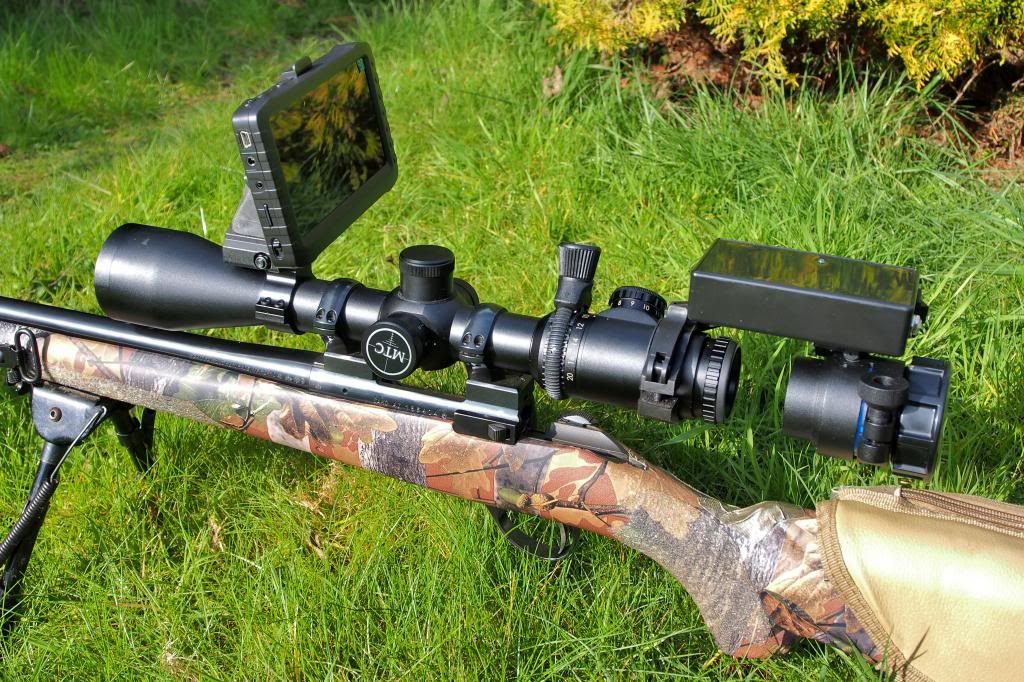 One neat little box!
Before shortening all the cables, they only just fitted in the bigger box! (notice the tiny bump just right of center, that's the tiny window to the blue on/off light on the video sender!)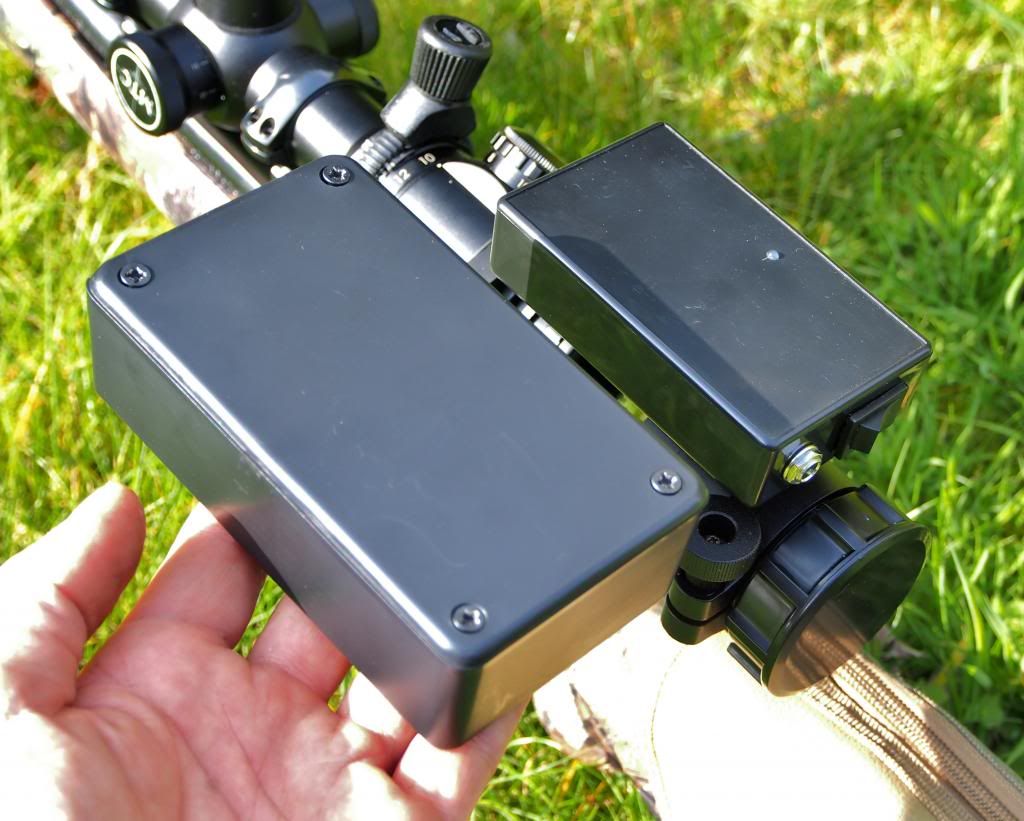 The QD DVR mount.
QD T20 mount (the weaver rail has a round base so sits firmly in line with the PES mod held with the rubber bands, might drill and tap one day!)
Sorry for the long post!
UPDATE
Ok, as requested, my first attempt at video from my new Wireless NV rig in it's Mk2 format (scope mounted T20 and a few tweaks here and there) taken from a walk on my friends shoot the other night, and some test footage from the week before.

Test scenes using the standard 16mm lens supplied by Sure ( I think it might be an f2.5) and the rabbit and 2 shots taken with the new 16mm f1.2.
It might let in more light having a wider aperture, but at the expense of a very narrow depth of field (DOF) thank goodness for side focus wheels, a catch 22 situation I think between the two (aperture and DOF) and would like others thoughts on the matter?

Still waiting for parts in the sound department, so I apologize in advance for the lack of it in the video (apart from an annoying hiss that is!)

As is usually the case, the picture looks grainy when up-scaled to a bigger screen but looks fine on the DVR, still more tweaking need though I think, and happy with the results so far!

I hope you enjoy it as much as I enjoyed making it?
http://youtu.be/WiezyMElpV8
Subsequent battery testing showed the DVR lasts around 4+ hours from a full charge when left just as a viewing monitor, less of course if recording...... about as expected!

The 1800mHa battery that powers the transmitter and E700 went for 9.5+ hours non stop (had to stop short as was going out) only getting slightly warm with no picture problems at all, much better than expected, and would probably last me a good few nights![/b]